Mr Holmes Baker House
My Favourite cafe spot in Seoul / Garosugil
Okay, maybe I haven't visited enough cafes. But I'm loving Baker House very much! Felicia brought me there with her hype and made me fall in love with them too. Originated from San Francisco or LA (I'm not too sure), they came over to Seoul with their popular Cruffins! Cr for croissants, and uffins for muffins. It's a cross of a croissant and a muffin! You hear that?! To explain how much we liked this place, we went to Baker House twice in a span of 24hours HA! Plus look at Felicia with her fingers, can you feel the *eggcitement* as I do?
You needa go earlier if you want to get some Cruffins before it gets sold out. Our first trip there was after my sunny-shade shopping at Gentlemonster down the street, it was probably some 9pm then we headed over to Baker House. Unfortunately, Cruffins were sold out. I got a Sesame Kouin Amann. These days, I realized anything with sesame tastes awesome. I haven't found anything with sesame taste bad, not that I wanna jinx it.
I'm on a Matcha Latte hunt!
It's not easy to find the perfect Matcha Latte. Baker House splendidly did a superb Matcha Latte. When in Paris (maybe that's why), Matcha Lattes are either too milky or too chalky which in a way is understandable, cuz— Matcha is from Japan and we're talking about Paris. In Seoul, I found my first perfect Matcha Latte. The right amount of milk, matcha and even the sweetness was just right! I happily dig into my cup on the first night. The following day, when we returned to Baker House for our teabreak *ahems* for Cruffins, I was too curious with other stuffs and got myself an Expresso (to wake up) and opted for a Matcha Croissant. Somehow, it always seemed weird to me to eat croissants out of France. I always have this expectations that it wouldn't be as good as the local french ones. I'm probably too bias with my Boulangerie right opposite my apartment, but it turns out yummy. Cuz the Matcha was just right :)
Yep, as you can see, I'm one of those people that lets the camera eat first :v
p.s. if you have a few thousand wons to spare, get their cutsy pins from their souvenir boutique!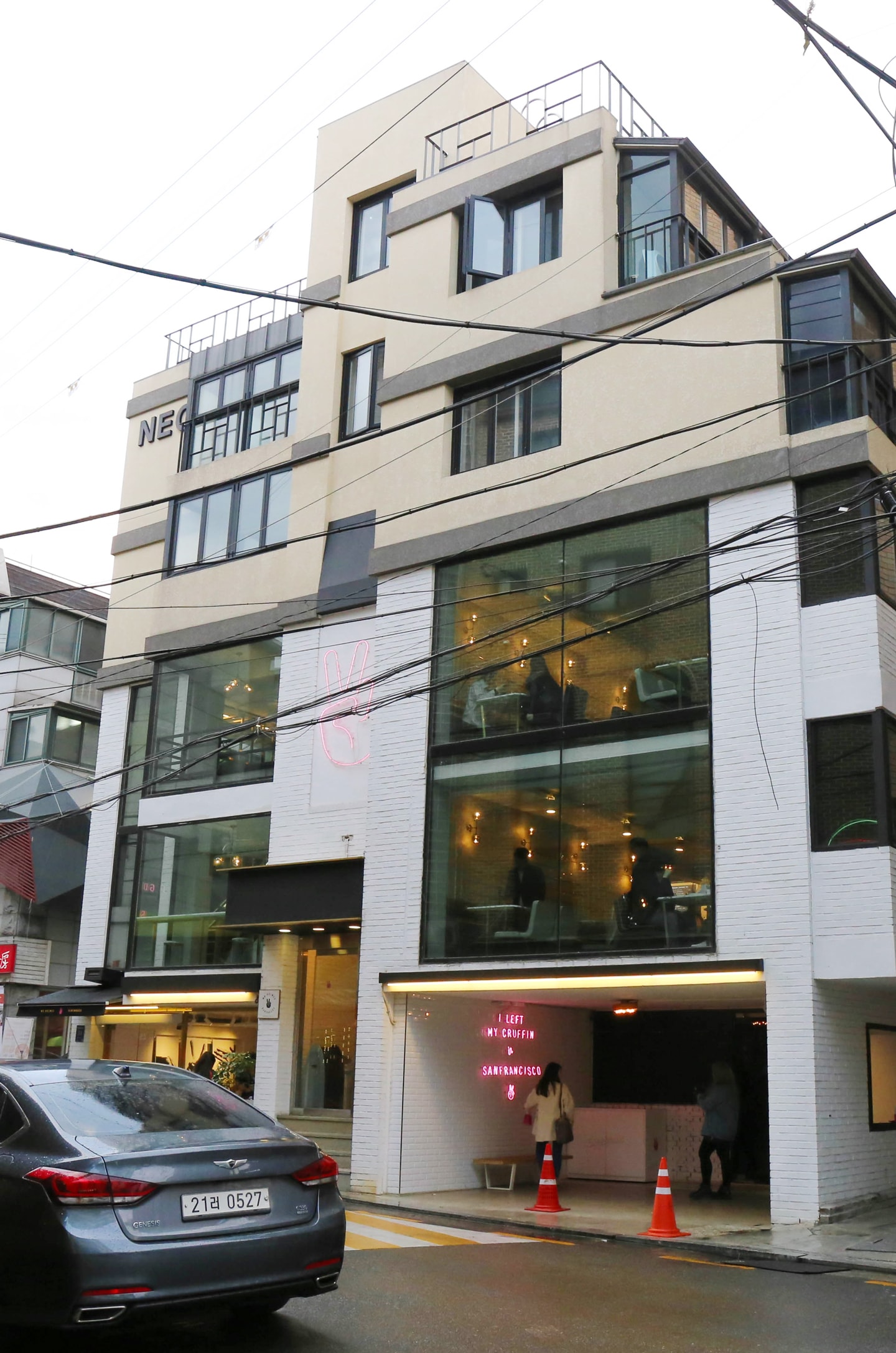 34, Apgujeong-ro 10-gil
Gangnam-gu
Seoul, 06028
10am to 10pm on weekdays, and 11pm on weekends
Closest Train station : Sinsa